About Dan Perkins Subaru Dealership - A New & Used Subaru Dealer in Milford for Trumbull, Branford, Stratford, Wallingford and New Haven, CT Areas
Thank you to all our customers who have taken the time to write us about their experience
.

At Dan Perkins Subaru, we pride ourselves on our ability to meet your needs.
While the current popularity and resulting high demand of Subaru vehicles has made some Subaru models hard to come by, our professional sales staff will do everything we can to ensure that you get behind the wheel of your desired Subaru.
And we understand why Subaru's are in such high demand.  Subaru is the only manufacturer with IIHS Top Safety Picks for all models, two years in a row.  Add in the fact that Subaru was awarded the industry's highest predicted resale value by ALG and Kelley Blue Book's kbb.com* and it's easy to see why Subaru has been setting unprecedented sales records.  A company whose products are right for the times with capability, safety, longevity, fuel-efficiency and value.  It seems everyone loves a Subaru.  And you don't need to take our word for it.  You can hear it directly from other Dan Perkins Subaru owners below.
We're a company that is passionate about what we sell. It's no wonder our owners love their car. Let us help you become passionate about your next new Subaru and Dan's exclusive Lifetime Warranty.
* Based on ALG's 2011 Residual Value Award for Mainstream Brands and Kelley Blue Book's kbb.com 2011 Best Resale Value: Brand Award. For more information, visit Kelley Blue Book's KBB.com..About Dan Perkins Subaru - a Milford New & Used Subaru Dealership
Dan Perkins Subaru offers many automotive products and services to our customers and is the Home of the Dan Perkins Subaru Lifetime Warranty. From quality new Subaru vehicles to
used cars
, we know anyone looking for a vehicle in Milford CT will likely find what they want at our dealership. We carry a comprehensive line of Subaru vehicles, including the
Forester, Outback, Legacy, Impreza Crosstrek,and the BRZ
, making us a good choice as your
Milford Subaru car dealer
.
Our services include trusted Subaru car repair, original Subaru parts, financing , and auto body repair to help our customers purchase the car of their dreams.
Call Dan Perkins Subaru in Milford CT or come visit us in person. We're conveniently located at 1 Boston Post Road and look forward to helping you with your automotive needs.
Another Dan Perkins Happy Customer



We are also Proud Sponsors of: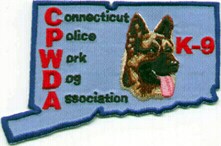 What Our Customers Have to Say:

Five Stars on DealerRater This is how we do it!
Dan Perkins Subaru, Inc
One Boston Post Rd, Milford, CT 06460
View All Reviews for this Location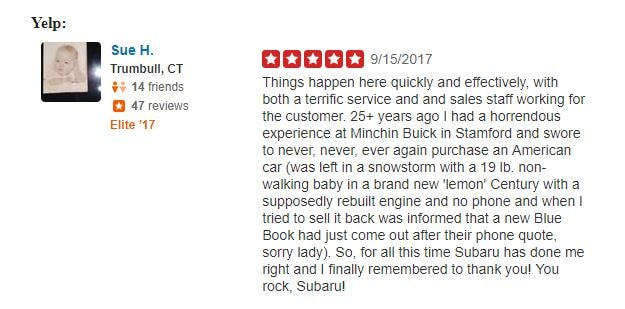 Yelp
5/4/2016
Candice E. - Milford, CT
Being young single and female, I was having a lot of stress and anxiety over getting a car. I had had several bad experiences with sales guys who tried to screw me over and was worried it would be the same everywhere. I went into Dan Perkins and Sid helped me out so much! He listened to my concerns and treated me with the respect that any car buyer deserves. He helped me find exactly what I wanted at another Subaru and got it picked up and brought to his dealership in less than a week! He even expedited the process further when I told him I had to drive to another state for a family emergency. Such a relief! Picking up the car went well even though the DMV had had some problems with the registration. Sid and Gabe worked everything out for me and got me on the road to be with my family that night! 
At the risk of being corny I really can't help but type love really does make a Subaru a Subaru! If you go to Dan Perkins, ask for Sid!
5.0 star rating 
May 2016
Fantastic Service-Twice!
matthewd2
said on
09/05/15
Both my boyfriend and I went to Dan Perkins for our new Subarus. We both test drove a few cars (with the salesperson being very patient as we did) and he was the first to purchase. He ended up with a new Impreza. The sales staff was very helpful- no pressure whatsoever. Very willing to negotiate, and worked with us every step of the way to make sure that we both got the car we wanted as a price that worked for all parties involved. I recently leased a new Legacy from there and could not have been happier with the process. I was trading in a car towards the purchase with a small balance left on the loan and this was all worked out in the deal so all I had to do was hand over the keys. Overall, a great dealership with amazing sales staff and I would highly recommend to anyone looking for a Subaru.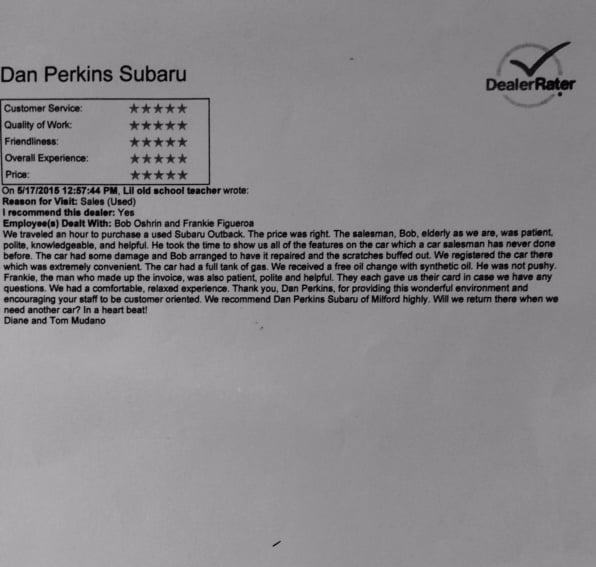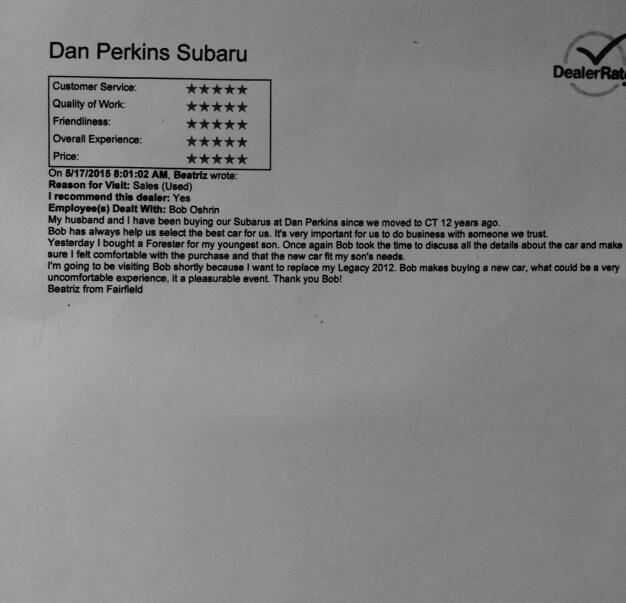 Ralph T. Calderon "Was a pleasure to do business with Bob""
Bob Oshrin is the best salesman I have literally ever met. Back in 2010 Bob sold me my brand new 2010 Legacy with no hassle and tremendous service. My dad and I went into the dealer on a Sunday, and Bob was the first to greet us, and said lets take a test drive if you want to, and he had me sold on my first brand new car. I had an amazing experience 5 years later to have Bob as my salesman again, he never forgot who I was, and did his best to get me the best deal possible. Sadly my legacy was totaled, and I ended up getting and buying a Maxima from Bob with a great price. It was such a pleasure to see him again, and have such a smooth car process . Bob truly cares about his customers, he always said to me contact me on my cellular if you have any questions. He even came in today on his off day to finalize the car process with me, that's a guy that is passionate and caring to his customers. Bob it was great doing business with you again, and 5 years previously, you're one of a kind Bob, thank you for everything. Bob Oshrin should really have a wall plaque stating him as the leader in customer service and sales. Bob thanks again for everything!!!
"Great Dealership" 
DealerRater Five Stars
My husband and I leased our 5th Subaru. This was our 2nd time leasing from Dan Perkins. Kevin Puzzo, our Sales Consultant, worked with us and got us a great deal on our Lease!!! We live in the Stamford area and there are Subaru dealerships closer to us, but we find Dan Perkins is always more willing to work with us on getting us the best price for our car. It is worth the trip to drive to this dealership.
Kevin Puzzo, Avrom Sevell & Nick Aquilina
"Mike Cap, Superhero"


DealerRater Five Stars
Mike responded to my online inquiry immediately. He cleared my financing and prepped the paperwork same day. I knew roughly what I wanted, but with Mike's help, I chose a Toyota Corolla to meet my needs: recent year model, low mileage and a great price. I came in the next day and we ripped through the paperwork quickly. I drove away in my new car completely satisfied 24 hours after my first email. Mike Cap is the ultimate example of an honest, straightforward salesman.
First Time Buyer, Superb Experience"

 DealerRater 5 Stars
When my friends told me to go to a specific place, i's one thing. When total strangers tell me that a place is worth buying from, it's a completely different thing, and it makes me want to go visit the dealership that much more! I bought in October from Dan Perkins, and it took me this long to write my review because I have never stopped driving my car! I love it and the experience offered. Christine assisted me via her impeccable internet e-mails. Michael, my salesperson, was excellent, and with a great sense of humor and perfect presentation skills, convinced me (even more than I already knew) that the XV Crosstrek was right for me! Josh assisted in getting me the best price, and Avrom, the Sales Manager, made sure that I was treated with professionalism and respect at every opportunity. I drove from NYC to get my car, passing over 20 dealerships along the way, and drove over an hour more than once over test driving, discussing finance options, getting my car, and servicing it. It is absolutely worth it! I love Dan Perkins Subaru because they take the worry out of getting the right car for you. You won't regret the drive. From experience, I can promise you that! And I promise that if I ever get another car, I will be going to Dan Perkins again!
l
"First car purchase in 12 years"
Five Stars DealerRater

Unfortunately, my last car that I had owned for 12 years was recently stolen. Aside from the obvious feelings of anger and betrayal for all of humanity, I really hated the fact that I had to buy another car....the haggling, the pushy car salesman, the research to find the best rated vehicle in my price range, making monthly car payments again. Then I went to Dan Perkins Subaru where I met probably the most honest salesman out there, Kevin, and George, the most patient finance guy I have ever dealt with. My car buying experience was exceptionally easy and I would recommend this dealer to anyone in the market for a new car. Even if you aren't looking for a Subaru, the awesome treatment you receive here may change your mind. I am looking forward to my upcoming service appointments with this fine group of people.
Shelly does it again!

Shelley Traumer was the outstanding sales person who worked with me in finding the perfect car for my wife's and my needs.   I had already done research on line. When I first met Shelley, I told her what I did and did not need, and I was very clear I did not want to pay for lots of features that were not essential.   She listened with care and never pressured me to buy a more expensive vehicle.   Highly knowledgeable about her products, Shelly led us to purchase a new Forester,giving us excellent value on our trade-in.  We have been delighted with our new car's pick up and braking, its road stability, and its extraordinary traction through snow and slush.  I highly recommend dealing Shelley Traumer because she is thoroughly knowledgeable and treats customers with candor and integrity.  

Tom T.




________________________________________________________



December, 2012

My Review of Dan Perkins Subaru:


My experience with this dealership was great from the moment I walked in thanks to Regina Golden. She came to meet my family and I at the door with a smile. Although it took me the whole day to decide which car to buy, I never felt rushed. I test-drove 3 cars and looked at least 8 cars before making my decision. It was a very cold day, but Regina make the whole experience so worthwhile. She was so helpful, organized, and professional. By the end of the day, Regina made me feel like family. She was by far the BEST sales person I've ever met. Ask for her if you're ever at this dealer!
Grace. Norwalk, CT.


November, 2012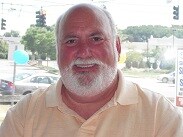 RE: Tom Montanaro

Tom was great!  Very friendly, helpful with no pressure while working with me to fill my needs.  I felt very at ease ..Thanks Tom
Angela D.
September 10, 2012

"I had a great experience with Bob in returning my 2009 Subaru Outback and getting into a 2013 Outback! He continued to follow up with me even after I had missed a few appointments & he was very professional in his follow through! It was one of the easiest and quickest transactions in the many cars I have purchased & leased. Bob was a pleasure to work with and I will definitely return to him again. Thank you Bob!! Thanks, Ken"
Congrats Shelley Traumer for a job well done! June 2012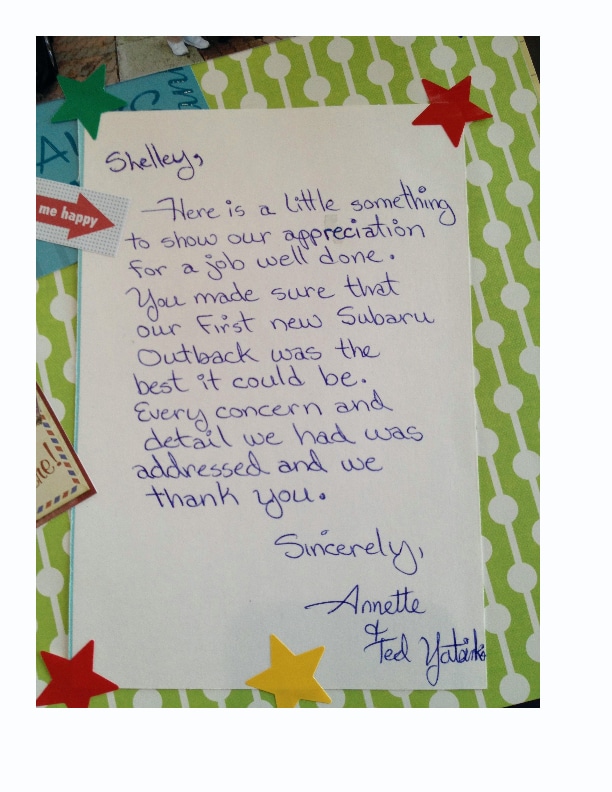 About: Regina Golden  June 7, 2012

I had a great experience at Dan Perkins.  Regina was very helpful and did everything she could to make the buying process as simple and stress free as possible.  It certainly will be kept in mind when the time comes in the future to buy a new vehicle.

Bill M.

           Bob Oshrin June 4, 2012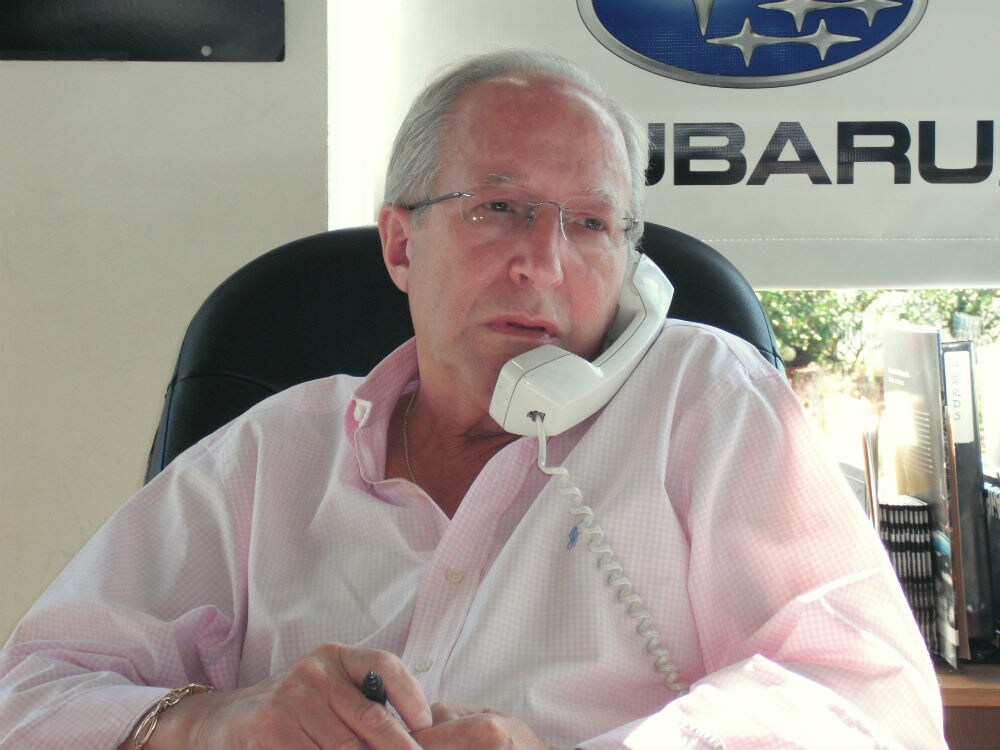 Hi Bob:

        I recently purchased the Sky Blue Legacy.  It is so much fun to drive and everyone looks at it when it's parked.  I'm so glad I got to do business with a professional and down to earth car salesman like yourself.  Thanks for all your help!

P.S. Who's laughing now Winter?  Bring on the snow!

Regards,

John