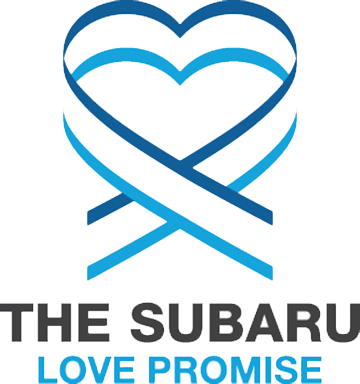 What is the Subaru Love Promise?
Subaru and our retailers believe in making the world a better place and the Subaru Love Promise is our vision of respecting all people. This is our commitment to show love and respect to our customers and to work to make a positive impact in the world.
How is Dan Perkins Subaru dedicated locally to the Love Promise?
Our Love Promise can be seen in various partnerships with local charities and non-profits. We're grateful for the opportunity, not only to be a part of our community, but to serve it as well. Whether it is help providing housing for single parent mothers, pet adoption, support of the arts to participate in the community in which we live and work. We feel grateful to have these organizations as partners. We have been supporting local charity endeavors for many years, and hope that we have had a positive impact on peoples lives.
ASPCA, Connecticut Humane Society, Nutmeg Spay/Neuter Clinic
Subaru Loves the Earth, Save The Sound Coastal Cleanup
JONATHAN LAW HIGH SCHOOL, EZRA ACADEMY, Quick center for The Arts, JFK Elementary School, Milford, CT
HELPING HANDS OUTREACH.LLC, Milford CT Police Department
Leukemia and Lymphoma Society, Make A Wish Connecticut
Love Promise Stories from Dan Perkins Subaru
Subaru and Dan Perkins Subaru believe in making a positive impact on the communities in which we live and work. We uphold that belief through our Love Promise Community Commitment. Every month, we select inspiring stories from customers and partners from around our area who strive to support our collective commitment and feature them here
A fresh start for pets in need - Susan W
Sheila the Chihuahua mix loved getting pet. So much so, that if you stopped petting her, she'd push her nose into your hand for more! Staff and volunteers at the Connecticut Humane Society in Westport loved giving her attention, but are happy she's now being spoiled in a loving home of her own. And thanks to Dan Perkins Subaru, another pet can take her place at CHS and get their own fresh start. That's because Dan Perkins Subaru donated $100 to CHS for each cat and dog adoption in October for Subaru Loves Pets Month, to put toward veterinary care for more critters! So many more pets just like Sheila are getting the care they need at CHS, thanks to the dealership's support. Visit CThumane.org for more information on the pets.
---
Dry January - Gary S
We were invited to partner with REI Co-Op and participate in the first Dry Ski and Snowboarding event at a non-alcoholic brewery. This type of event enables people to gather, enjoy the non-alcoholic brews and bring the whole family.
---
Dan Perkins Subaru Loves Learning - JFK E
Evan Perkins and Avrom Sevell present 5 cases of science related books to JFK Elementary School in Milford, Connecticut. Many thanks to Casi, our third graders in the photo and everyone at JFK Elementary.
---
The Connecticut Coastal Cleanup - Gary S
We have partnered with the Save The Sound folks to clean up Gulf Beach in Milford, Connecticut. We had a solid turn out of some wonderful people, including Kevin Begley of Star 99 FM radio who hosted our event Live on Facebook.....viewed over 1,000 times! What was the most menacing find? Hundreds of cigarette butts. There were all sorts of unusual finds:
---
Dan Perkins Subaru Attends the Green Wheels Expo - Gary S
We had the opportunity to display our 2019 Crosstrek Plug In/Hybrid at this Expo. Emphasizing our and Subaru's commitment to improving the quality of our environment. This was the largest event turn out in all of Connecticut. In attendance was a totally electric school bus as well as an electric food truck!
---
Bringing Warmth and Love to Cancer Patients! - Daniela V
Dan Perkins Subaru and The CTWHV Chapter of the Leukemia & Lymphoma Society (LLS) have partnered to make a difference in the lives of people battling cancer in the Trumbull community. The partnership called Subaru Loves to Care provides warm blankets and loving messages of hope and inspiration written by Subaru customers to patients fighting cancer at Park Avenue Medical Center. HUGE Thank you Dan Perkins Subaru for donating 80 beautiful blankets to Park Avenue Medical Center to spread warmth to their patients. Patients are in the infusion center for hours at a time and these blankets keep them warm as they are going through treatments. On behalf of LLS and everyone fighting or in remission from cancer and the people who love them, huge and heartfelt thanks to Dan Perkins Subaru and the entire Dan Perkins Subaru family for joining the LLS mission to create a world without blood cancer.
---
Dan Perkins Subaru Presents Blankets - Dan P
Dan Perkins Subaru has partnered with the Leukemia and Lymphoma Foundation of Connecticut to provide over 100 blankets to the Yale New Haven Hospital Smilow Cancer Center. We have been partners with the Foundation for three years to deliver blanket to those getting treatment at hospitals in our area. Thanks to the Society for all the great work they do. We are proud to be part of this event.
---
Dan Perkins Subaru Holds Badly Needed Blood Drive - Gary S
Dan Perkins Subaru is proud to have participated in saving lives with our annual Red Cross Blood Drive. We collected 30 pints, exceeding our goal by over 100%. We are very thankful that our Dan Perkins team and partners were able to provide well needed blood to our local hospitals. During a time when there was only a three day supply in Connecticut, our staff and customers rallied for the cause. Thanks again to all who participated in our Blood Drive Event. Dan Perkins Subaru, will rise to the occasion when our community needs us. To see so many people give of themselves to help others was an amazing experience for all of us. Thank you! WHY?Along with helping save lives, there are a number of reasons why donating blood is important. 1. A single donation can save three lives. The Dan Perkins Subaru Blood Drive potentially saved up to 90 lives. A single blood donation can also provide different blood components that can help save up to three lives.2. Blood cannot be manufactured. Despite medical and technological advances, blood cannot be made, so donations are the only way we can give blood to those who need it. Which is why Dan Perkins Subaru stepped up to the plate! 3. Blood is needed every two seconds. Nearly 21 million blood components are transfused in the U.S. every year.4. Only 37 percent of the country's population is able to donate blood.5. Your friends or family may need your blood someday.
---
The Love Promise, Make A Wish - Gary S
We finished with $70,000 for our local charity the Make A Wish Foundation of Connecticut. The donation will enable the Foundation to provide 7 wishes for their Wish Kids. The Make A Wish Foundation provides wishes for seriously ill kids. We are proud to support this effort in our community... Dan Perkins Subaru has been a long time supporter of the Subaru Share The Love event. Over the years we have been able to raise several hundred thousand dollars for local charities. We thank you all for your support.
---
Dan Perkins Subaru Spring Blood Drive - Gary S
On April 19th. Dan Perkins Subaru will be hosting a very well needed Blood Drive partnering with the Connecticut Red Cross.
---